Castaways on the Lake
Waterfront Restaurant in Webster, NY
Enjoy the most spectacular views and gorgeous sunsets on Lake Ontario while dining outside. Cozy evenings and incredible specials are what make the Castaways a favorite dining spot. Our two tiered lakside decks are the perfect setting for outdoor dining, in spring and summer. Also, enjoy easy-listening, live acoustic guitar music weekend evenings in the summer. Our menu offers delicious creations that are sure to tempt all palettes. Treat yourself to local favorites such as cajun rubbed blackened prime rib or our fresh seafood sampler platters.
Our chefs also offer many pasta, fish, seafood and chicken dishes that are sure to please. We also offer off premises catering and take-out for your convenience. Exceptional food and scenic views are why the Castaways has been a favorite dining spot since its opening in 1906. Enjoy outdoor dining under our heated patio deck. Comfortably spaced tables and plenty of free parking make this a favorite Lakeside dining spot.
Castaways will also cater your next party or event, pick-up or delivery. Please visit our Catering Page to learn more about this service.
Free Boat Docking is available on Irondequoit Bay. Dock your boat, visit us for a drink, lunch, or dinner, and enjoy a Incredible lake Ontario sunset on our outdoor patio dinning area. Boat Docking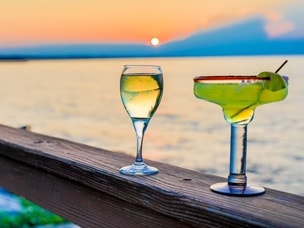 There's a little slice of paradise just around the corner...Seeing is believing.